Choosing the Right Colour for Your Security Door and Window Screens
May 16th, 2021
Whether you're building or renovating, choosing colours can be both fun and stressful. Thankfully, there are a lot of resources available from inspirational images on Pinterest to industry tips and online tools.
CommandeX has developed a fun interactive colour selector where you can choose and change colours on a security screen door to see what it looks like in real life. This colour visualiser will also be helpful if you are in early stages of building and deciding on your door and window colour.
Tips for choosing the right colour for your security screen frame
Colour match to the door and window frames. You want your security screens to blend in with your windows and door frames, so it's best to colour match where possible even if it's not your first choice!
You can have a little more fun with a hinged security door at the front door. While it's important to choose a colour that works with your colour scheme, it's easier to bring some individuality with the frame colour. Monument is a popular colour at the moment because it is great for blending with a range of colours as well as the security mesh. Wood effect is also a great choice for those with stained door jambs and timber doors.
Need some colour inspiration?
The interactive colour selector tool is a great page to bookmark for when you have time to sit with a cuppa and test out different colours. You can choose from 26 colours including wood effect and see how each colour looks on a security screen.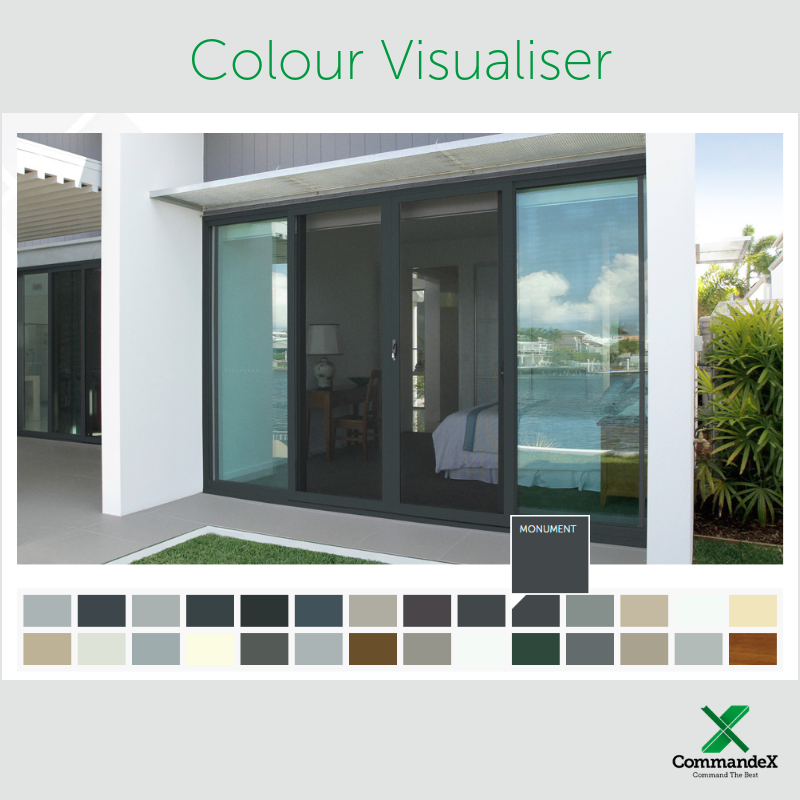 CommandeX is a leading wholesale provider of security screen systems and complimentary products. We are proudly a 100% Australian owned company, supplying to over 200 dealers across Australia, who are all committed to providing quality products and service.
To find your local CommandeX dealer, call us on 1300 720 838 or fill out the online enquiry form.