Security Screen Doors and Windows: Cleaning Guide
August 7th, 2021
How to make sure your security screens last
Security screens are popular because they allow you to open your doors and windows to let the air circulate through your home while providing home security. They also act as giant air filters, reducing the amount of dirt, dust and pollen entering your home. As the outside air flows through the mesh, airborne contaminants become trapped and settle on the screen. Regular cleaning will keep your security screens looking their best while prolonging their life.

What happens if I don't regularly clean my screens?
Dirt, and in particular salt, will crystalize on the screen and immediately start to attack the powder coating. Although we use highly corrosion resistant 316 marine grade stainless steel, any security screen mesh with a buildup of airborne contaminants will be susceptible to staining and corrosion.
Not only will this look unattractive, but most importantly, it puts your security and investment at risk. All suppliers state regular cleaning and maintenance is part of their warranty terms. We'll outline our cleaning guidelines later in this article.
Cleaning your screens in 3 steps
STEP 1 – Hose Down
Using mains water to hose the screens to wash salt, dirt and dust off. If using a water blaster it is best to use the car attachment or simply stand back with the nozzle at least a metre away so you do not strip the paint protection or powder-coating off the screen.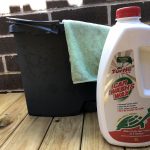 STEP 2 – Wash
Wash the screens (mesh and frame) with a soft cloth and recommended cleaner as advised in the manufacturer's warranty terms. CommandeX recommends using regular car wash and wax, however extended warranty registrations do require specific products. Always check the care and maintenance guide for your specific product.
STEP 3 – Final Hose Down
Hose the screen down to rinse the car wash and wax cleaning product off the screen.
OPTIONAL STEP
You can purchase an anti-corrosion lubricant such as CommandeX Protect to extend the life of your screens. Pour the lubricant onto a soft cloth and wipe onto the inside and outside of the screen.
Do's and Don'ts for maintaining your screens
How often should I clean my screens?
First, it is important to recognise the environment in which you live. Different climates, along with proximity to the ocean and its salty, corrosive spray, present different challenges for your home's fittings. Depending on your location, you may be required to focus more so on salt removal and corrosion protection, and clean more regularly. We recommend you to diarise your 'screen clean' following the schedule below. For other products, contact your retailer, and check your warranty and care guide.
While some of these frequencies may seem somewhat frequent, anyone who owns a boat or lives within 200m of a surf beach will be familiar with the harsh corrosive effects of the salt air, even on household appliances like TV's. In these harsh environments, it's very important to wash the screens every week to remove the salt build up, just like you would wash a boat and trailer after being in salt water.
Which do you clean more often, your car or your screens?
The powder coating on woven stainless steel security screens is the same process as the paint on cars, but thicker. Car paint is 95um thick whereas our SecureView Eclipse screen is specified to 120um.
It's important to treat your screens the same way you would the air filter on your air conditioner, and the paint on your car. Like those where you need to clean the air filter and wash your car to keep them working well and looking good there are some important dos and don'ts to care for your screens, no matter where you live.
You don't wash your car with vinegar or Ajax, so please don't use these products on your security screens.
Done properly, you will have a sparkling, like-new security screen to enjoy throughout the year. Security screens from Commandex are extremely hard-wearing and almost maintenance-free, but a few minutes of care at regular intervals can pay dividends.