How Can a Fire & Emergency Escape Screen Save Your Life?
May 15th, 2020
In this article, we provide suggestions on finding the right balance between home security and home safety. While deadlocks and security screens will keep you, your loved ones, and your home safe from intruders, is it essential to make sure that these home security measures do not prevent you from escaping in an emergency.

According to Allianz, It is estimated that over 50 deaths a year in Australia are caused by accidental house firesi. While many house fires are preventable, over 11,000 residential fires occur yearly in Australiai.
Here's how to keep your family and your home safe
1. Follow home safety guidelines and tips to prevent your home from catching on fire
To find out what the highest cause of house fires are and how to prevent them, read our blog: Home Fire Safety Tips.
2. Prepare and practice a fire plan for a quick escape in the event of an emergency
Each state Fire Department has lots of information to guide you through preparing a fire plan.
We're all about security screens here at CommandeX. You can never have too many! But…that doesn't mean locking yourself in with a house full of fixed window screens. Our Fire & Emergency Escape Screen is designed for a quick escape, giving you an additional exit point in case access to your door/s is restricted. Make sure everyone in the home is aware of the plan and knows how what to do in an emergency. While an escape screen is easy to use, it is only beneficial when the 'responsible people' know where it is and how to use it.
When do I need a Fire and Emergency Escape Screen?
A Fire & Emergency Escape Screen is absolutely necessary when access to windows is restricted.
Do you have or are you thinking of installing window security screens or window grilles?
No – A Fire and Emergency Escape Screen is not necessary as you can escape from your open window.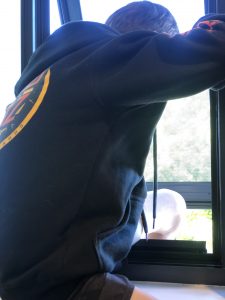 Yes – If you have window grilles or security screens on multiple windows, it is really important to ensure they are not all fixed and that you have an accessible escape route in case of an emergency.
If you answered yes, installing at least one escape screen in a room suitable for an escape route could save your life.
How does a Fire & Emergency Escape Screen work?
Fire & Emergency Escape Screens allow for a quick and keyless escape. They provide both fire safety from the inside and home security from the outside.
To open the escape screen, you simply pull the lever and open the screen as demonstrated in the video below.
There are two styles of emergency escape screens – hinged or sliding. Your window style will determine which type you should have depending on the style of window they are being mounted on.
Be fire ready
Make sure you prepare and practice a fire evacuation plan. Refer to your State's Fire Department for resources.
Once you finalise your fire plan and/or install a Fire & Emergency Escape Security Screen, ensure you discuss your escape plan with your family and practice using your escape route.
If you think a Fire & Emergency Escape Screen will create an additional emergency exit in your home, contact us for a free measure and quote from one of our dealers.