How Are Security Screens Made?
March 3rd, 2020
Many security screens use screw-clamp or riveted systems to attach the security mesh to the aluminium frame. Not only does it look unattractive, but it also increases the risk of galvanic corrosion that occurs when dissimilar metals contact.
CommandeX designed and patented a fixing system free of mechanical fixtures (such as screws and rivets), which provides clear spacing between the security screen mesh infill and the aluminium frame to eliminate the opportunity for galvanic corrosion.

How does CommandeX make strong security screens without screws and rivets?
In short, our security screen mesh is attached to a two part wedge system using 3M™ VHB™ and fitted to an extruded aluminium frame.
The fixing system uses a unique two-part wedge, set into an extruded aluminium frame. For context, extruded aluminium is aluminium that has been moulded with a definitive cross sectional profile for a specific application. CommandeX frames have two unique extrusions (one in the shape of jagged teeth and the other a channel) that allow the matching shaped wedge to fit securely, without any movement. See the diagram below for an illustration.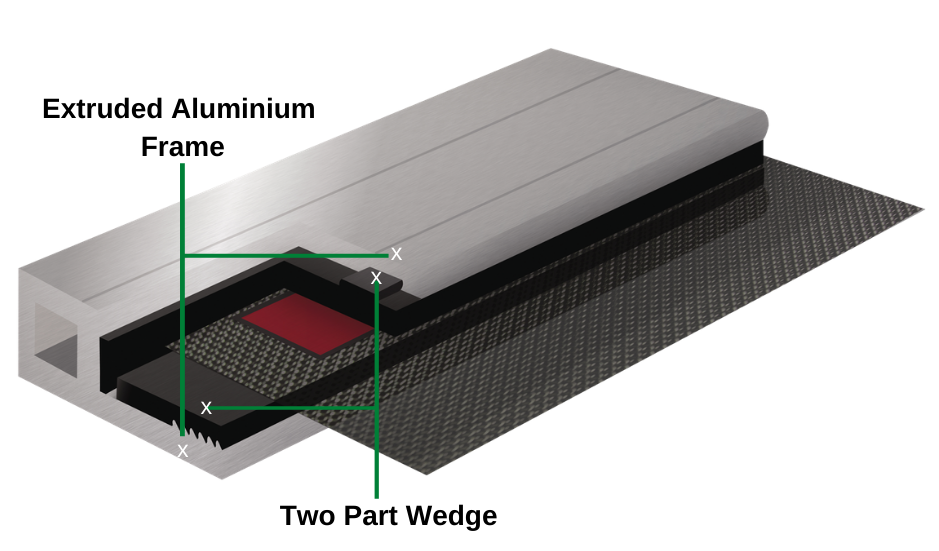 Solid aluminium stakes are used to fortify each corner join, providing our security doors and security window screens with steadfast strength.
The security screen mesh (either SecureView 316 stainless steel mesh or Xceed perforated aluminium sheet) is fitted between the two wedges using 3M™ VHB™. While 3M is a household name for 'damage-free picture mounting', 3M™ VHB™ is a very different product! 3M™ VHB™ has been widely used for over 30 years in many construction applications including window glazing and architectural panels, and is trusted by architects around the world. Iconic buildings such as Chicago O'Hare Airport and the Walt Disney Concert Hall have used 3M™ VHB™ to bond exterior panels. 3M even produce tape for aerospace!
How does 3M™ VHB™ work?
The acrylic chemistry of the adhesive delivers exceptional durability while its viscoelasticity provides superior energy absorbing properties which helps to eliminate stress points. You can read more about 3M™ VHB™ here.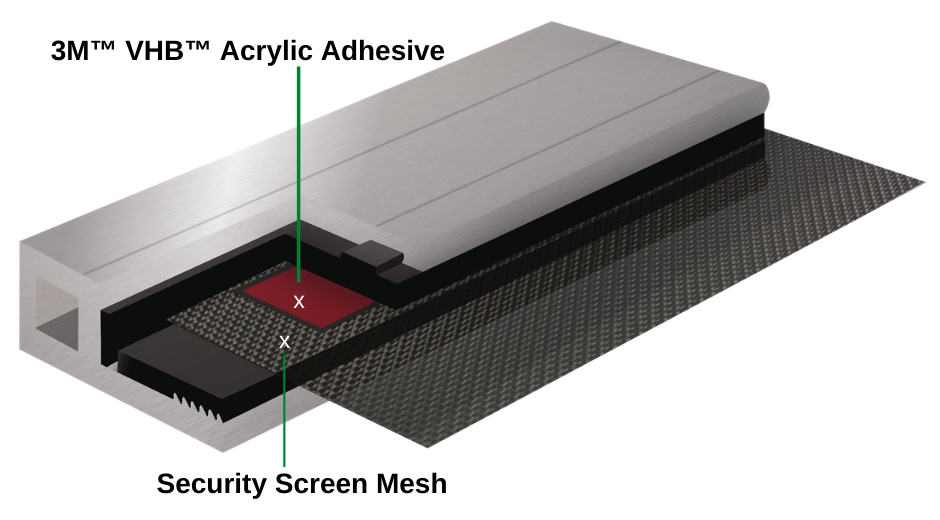 The frame features gold accredited Interpon™ powder coating that delivers a durable finish in
a versatile range of colours including the latest Colorbond™ colours. Use our colour simulator to what each colour looks like on a security screen door.
The end result is a sleek and durable security screen.