How to Choose The Right Alarm System For Your Home
February 2nd, 2017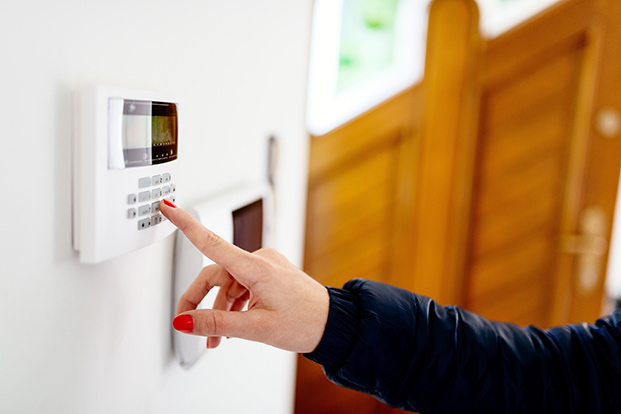 It's true; crime rates are dropping. The number of armed robberies, for example, has dramatically decreased over the last few years. But breaking and entering, as well as burglary, continue to rise, according to numbers from the Australian Bureau of Statistics. If you want to discourage burglars from thinking your house is an easy mark, you have to be thinking about some kind of security system. But which is the right one for you?

Making sure you've got the right hardware
The basic burglar alarm system has seals on windows and doors, and sounds a (usually very loud) alarm when they are broken by unauthorised or forced entry. You can also add motion detectors to these systems to catch people walking inside or outside your house. Such alarm systems can also have smoke and fire alarms added. These systems rely on noise to scare off the burglar if you're away, or to alert you to call the police if you are inside the house.
More elaborate home security systems have all the features of the burglar alarm, but they also add some kind of remote monitoring. Commonly, this is a link to the alarm company that installed the system. Like mobile phones, these companies give you a cut rate on the alarm system, but you pay a monthly or quarterly fee for the monitoring service.
Alarm systems originally relied on the phone system – landlines – for monitoring. That's why the bad guys in the movies always cut the phone lines before performing their dastardly deeds. Nowadays, you can get the alarm system linked to either your mobile phone or by the internet connection at your house.
That means that like your Wi-Fi, your security system will have wireless components and not the trail of wires along or under the skirting boards.
One alternative to the security company monitoring your alarm is to have it tied to your mobile phone. Then, you can be alerted if someone is home and decide what to do yourself. If it is not a loose pet or the unexpected arrival of a friend or family member, then you can call the police yourself. Police are becoming much more wary of false alarms, so don't be surprised if they want some hard evidence to establish the break-in before they send the car (this is not a problem if you're actually in the house when you call the emergency number).
Another additional feature to these remote systems is CCTV. You can install cameras that monitor different areas of your house, and with the right internet software, you can monitor the property in real time. This can be re-assuring if you get an alarm call, but it also allows you to check up on babysitters, children coming home after school, and pets that might be roaming when they're home alone.
What any alarm system should do
First and foremost, it has to cover the whole of your house. Back door or front door monitoring is an invitation for burglars to slide through a side window.
On the other hand, you have to remember who will be home, especially at night. If you install motion sensors, you have to put them where people will not be wandering to the bathroom or kitchen in the middle of the night. This is harder to deal with if you have small children, as their nocturnal wanderings are highly unpredictable. You can't use sensors where pets will be. Some sensors are calibrated to larger sizes, and should allow cats and small dogs to wander, however the sensitivity of the sensors can be tricky.
When you're looking at alarm systems, remember who has to use it. Will everyone in the family be able to arm and disarm the system in the allotted time? This allotted time is usually 15 to 30 seconds to set the code and leave or open the door, as well as re-enter the code to disarm the system. By the same token, you will have to decide when you leave children at home alone that they will not use the alarm for pranks. Police take a dim view of being called to answer five and six-year-olds randomly pressing the buttons when adults weren't looking.
What to avoid?
Don't be pushed into buying from the first company you call. Even call centres are trying to make the sale. Insist on a home demonstration, which, remember, is also a sales pitch. It really pays to compare systems and think through which is best option for you.
Don't sign up without seeing some references. Reputable companies will be able to provide examples of satisfied customers. Companies that guarantee their work, will also be happy to provide a written, money-back guarantee. It's the only way to ensure the system will work.
The reason to get references is to make sure that the equipment, the installation and the monitoring (if you're using that service) are all reliable. If any one fails, your security could be compromised.
Should you install it yourself?
This is a moment of truth for weekend handymen. Will you install it yourself? This depends on the kind of system you want. Some basic systems are no more difficult to set up than a cable box or a printer. But, if you're not sure or there is some heavy hardware in your system that needs to be secured in specific places in the ceiling or the crawl space, you might be better to get an installer.
Where to start?
If you decide that the alarm system is too complicated or won't work with your rowdy dogs, you can always improve the security of your house by making sure that you have good locks on all the windows and doors. Make sure they work and clip in easily, and are not too easy to unlock. Dead bolts on the front and back doors will deter burglars, even if you don't have an alarm system. Security screens on the windows and doors will add another layer of protection, no matter what alarm system you decide to install.
A bit of research for choosing the right alarm system
Having an alarm system in your home will not only protect your family, pets and valuables from potential theft and danger, it can also improve the sale price of your home, depending on the quality and extent of the safety alarm system. After a little research and discussion, you can find the perfect alarm system for your home!