Simple Fire Safety Tips To Help Protect Your Family And Your Home
October 25th, 2016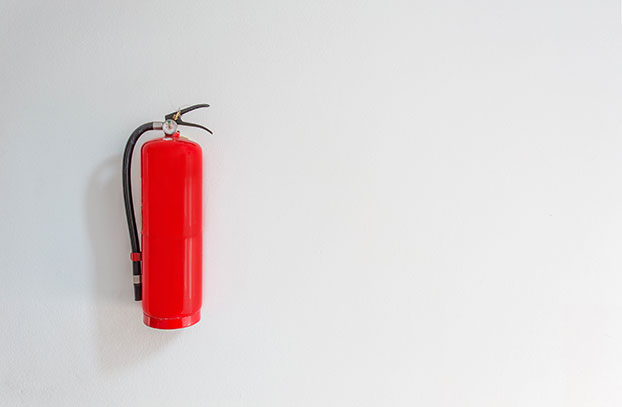 When a fire starts in your home, you might only have 2 minutes to escape – or worse, it cold claim your life.
Because of this, it's incredibly important you're properly prepared in the event of a house fire and employ simple safety precautions, such as having smoke alarms and fire extinguishers installed around your home.

Identifying and removing fire hazards, like faulty electrical appliances or wiring, is the most effective way to protect yourself and your home. You should also set up a fire escape plan for your family and your pets, and practice it regularly to ensure everyone's properly prepared in the event of an emergency.
Additionally, when you're grilling food or building a fire pit outdoors, you should always keep safety in mind.
Here are some home fire safety tips to prevent fire accidents and injuries.
Prepare and protect your family
Speak with your family about your home fire escape plan, and practice it twice a year at different times of the day.
Make sure everyone knows two ways to escape from every room of your home, and where to meet outside if there's a fire.
Talk to your kids about the dangers of fire, matches and lighters, and make sure you keep these out of their reach.
Teach your family about basic fire safety techniques, such as staying low to the ground, closing the door behind you to contain the fire, to 'stop, drop and roll' if your clothes catch on fire, getting out and staying out, and calling triple zero (000).
Don't smoke in bed – or even better, never smoke inside the house.
Protect your pets
Keep your pet in a room where the door's always unlocked, or use baby gates, so you or the firemen can get your pet out of the house quickly and safely.
Get a pet alert sticker, so firemen know there's an animal in your house. On the sicker, state the types of pets you have and how many there are.
Know where your pet likes to hide when they're scared or sense danger, and let the firemen know so they can easily find it.
Keep a leash and harness near your escape route, whether it's at a low window or the front or back door, so you can safely remove your pet in the case of fire.
Place candles on high places where your pet can't reach them.
Keep your pet off cooking surfaces and countertops, so they don't knock things onto the burner.
If your pet can reach the stove knobs take them off before you leave the house, or protect them with stove knob covers.
Get your pet microchipped (if possible) so you can find them if they run away from a house fire.
Smoke alarms and fire extinguishers
Install smoke alarms around your house (inside and outside sleeping areas), and on every level.
Test your smoke alarms once a month and change the batteries if they're not working.
Never disable your smoke alarms.
Use monitored smoke alarms so in the event there's a fire and you're not at home, you can call the fire brigade and they'll be at your home, even when you aren't.
Teach your children what a smoke alarm sounds like and what they should do when they hear it.
Replace smoke alarms every 10 years or whenever they stop working.
Have one or more fire extinguishers in your house.
Make sure you know how and when to use a fire extinguisher. Consider taking a fire extinguisher training course.
Household tools and appliances
Put candles in a glass jar when you use them and don't leave them unattended.
Follow the manufacturer's instructions when using appliances, and turn off and unplug them when not in use.
Keep clothes, curtains and other combustible items at least 1 metre away from heaters or fireplaces.
Don't overload electrical circuits or wall sockets, or run extension cords as a permanent source of power.
Replace frayed or cracked cords immediately.
Professionally replace or repair tools, appliances and light switches that overheat, cause electrical shocks, short out, give off smoke or sparks, sputter or flicker, or have an unusual smell.
Don't place electrical appliances on or near wet floors and counters, especially in the bathroom and kitchen.
Don't trap electrical cords against walls as this can cause a buildup of heat.
Use an appliance with a 3-prong plug in a 3-slot outlet, not in a 2-slot outlet or extension cord.
With a blown fuse or tripped circuit breaker, find out what caused it to overload before you replace or reset it and then correct the problem.
Get a professional electrician to replace old or damaged electrical receptacles with modern, 3-wire, polarised receptacles. Proper grounding helps minimise fire hazards.
Conduct yearly inspections on your electrical appliances and wiring, including switches, outlets, panels and junction boxes. Make sure they're installed properly and not damaged, and only have them modified by a licensed electrician.
Use an Arc Fault Circuit Interrupter (AFCI), a circuit breaker, which detects dangerous electrical arcs at cords, outlets, lights and trip breakers and prevents electrical fires.
Use lab-approved electric blankets and warmers and make sure the cords aren't frayed.
Don't let your children play with or around heaters, hair dryers and irons, and childproof electrical outlets with safety closures.
Cooking indoors
Stay in the kitchen when cooking food on the stove, and turn off the stove if you're going to leave the kitchen.
Keep things that can catch fire away from the stove, such as hand towels, pot holders, plastic and clothing.
Stay in your home when cooking food in the oven or microwave, and check items regularly.
Grilling food outdoors
Don't grill inside your home.
Once you have a fire started, don't squirt more lighter fluid on it as this is highly dangerous.
Keep an eye on what you're grilling so you don't burn it.
Use long-handled tools like tongs to cook food on the grill to keep your hands safe.
Make sure that your children, guests and pets stay away from the grill, so they don't bump into it and burn themselves.
Keep the grill in an open area away from anything that could catch fire, such as your house, the deck or tree branches.
Fire pit
Build your fire pit on an even ground or surface so the fire doesn't escape beyond the borders of the fire pit.
Make sure the fire pit's built at least 3 metres away from your home, fences and any trees to avoid fire damage.
Build your fire pit with dry, rough stones – not river stones, as these contain moisture and can heat up fast and explode.
Place small pieces of dry wood within the fire pit and use it to start your fire. Don't use gasoline or kerosene/lighter fluid, as these can cause the fire to quickly get out of control.
Don't use your fire pit on windy days because this can cause the flames or embers to spread to your home, yard and nearby trees.
Never leave your fire pit unattended, even if it's small, because flames can spread fast.
Make sure your children, guests and pets maintain a safe distance from the fire pit so they don't burn themselves.
Keep a garden hose, fire extinguisher or bucket of sand nearby to put out the fire incase it gets out of hand.
Put the fire out safely by extinguishing it with water, and then gently stir and spread the ashes until they're cool to the touch.
Protecting your home from fire
As you can see, there are a lot of things to consider when protecting your home from fire. You can also ensure the safety of your home and your loved ones by installing emergency escape screens on your windows and doors, these screens have an easy unlock lack which allow you to exit quickly through a window.  Security screens such as SecureViews 316 marine grade, easily pass Australian standards for providing fire attenuation, this means they will reduce the exposure to radiant heat from fires.  Security screens can prevent  fire from spreading quickly to other areas of the house.
Contact CommandeX today and see how we can help you protect your home with our security screen doors and windows.