9 Ways to Spruce Up Your Home for Autumn
April 28th, 2016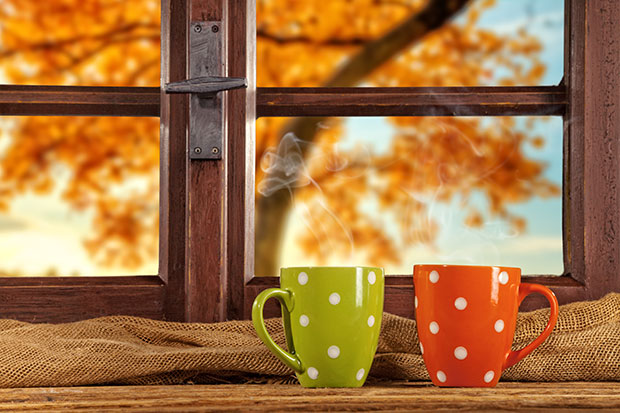 As the weather starts to get chillier, we often like to retreat to our homes for some comfort and warmth. Autumn is a beautiful season filled with vibrant sights and bold smells, so what better way to enjoy the season than by bringing it into your home? Autumn is a time for making memories with your family and friends, and gathering together after the end of a busy summer. Here we've got some autumn decorating ideas, so you can welcome in the new season with a new look and feel at home.
1. Seasonal colours
A fun way to get in the spirit of the season is to place seasonal colours around your home. Autumn is all about the warm tones, so put up a lot of oranges, rustic yellows, and browns. You can add these new colours into your decor easily, with things like tablecloths, cushion covers, and so on.
There is also a lot of beautiful artwork depicting autumn scenes, such as trees with empty branches, roads lined with fallen leaves, or weathered corn stalks. There is so much beauty associated with autumn, so make sure you have a piece of that beauty in your home.
2. Set a table for the season
Autumn can evoke thoughts of comfort foods and keeping warm in the company of friends. Have your table reflect this with table décor that reflects the season. Use rustic colours for your napkins and table cloth. You can use candles with rich browns and rusty yellows and oranges, and use a nature-themed centrepiece. This could feature likenesses of pinecones or fallen leaves, for example. Even a bowl of seasonal fruit like red and yellow apples or pumpkin and sweet potato would do the trick just nicely. As a bonus, you can swap out your usual seat cushions for ones with some seasonal flair.
3. In the bedroom
If you're looking to evoke warmth in autumn, then there's no better place to start than in the bedroom. Place seasonal-coloured bedsheets and pillow covers on the bed to get a nice comfortable vibe. Replace bedside knickknacks with pinecones or small pumpkins, or any piece that gives off an autumnal feel. Throw pillows can be yellow or any shade of brown. All of this will give your most relaxing room a wonderful warm glow to beat the autumn cool.
4. Bottle up the season
Well maybe jar up the season. Purchase some empty mason jars and fill them with autumn-themed items and colours, such as pine cones, browned leaves, and so on. Then place these jars throughout your home. It's always fun if the filling is edible and appropriate for the time of year. Try some bbq corn for a nice treat, or a mix of raw nuts and fruit bits. You can also decorate the jar by tying an autumn-coloured ribbon along the top.
5. The living room
You probably can't swap out your sofas every season, but that doesn't mean your comfiest living room furniture can't have some autumn flair! Instead of the whole couch, you can change out your throw pillows for ones in richer autumn colours. Add in some similarly-coloured blankets and rugs to complete the look. A throw always screams "autumn", as might a simple rug.
6. By the fire
Nothing says warmth and comfort like snuggling up by the fire on a cold or cool night. Simply lighting a fire can give off a seasonal fall vibe, but there's no reason you can't add a little extra to it. The wood itself can be a nice decorative aspect to your fireplace. You can arrange the wood in piles around the fireplace, and sprinkle it with leaves that have turned colours. Put down a plush rug or blanket, and you're ready for some cozy time by the fire.
7. Autumn aromas
Fill your home with warm and spicy smells to give an autumn feel to another one of your senses. Potpourri not only smells nice but can also be decorative. Scented candles and incense will do the trick just nicely as well. Bake as much seasonal food as you can! Not only will it fill your house with amazing aromas, but choc chip cookies and sticky date pudding are yummy foods. You can also make some mulled wine or apple cider with cinnamon on the stovetop to add to the seasonal flavour.
8. Flowers
Since autumn is a time for natural beauty, you can bring it to the inside of the house with seasonal floral arrangements. Large yellow sunflowers and lilies are perfect choices. The great thing about flowers is that they can be switched out at any time to add some variation throughout the season.
9. Seasonal home adjustments
Autumn brings in that beautiful breeze that Aussie homes miss out on during the summer. So it's time to leave open those doors and windows and let your home enjoy a cool blast of fresh air. With all those open doors and windows, you want to let the breeze in and keep those fallen leaves out! So don't forget to protect the inside of your homes with SecureView window screens and doors.
Autumn is just around the corner, and there's no better time to fill your home with warmth and comfort. Bring the beauty of the outside into your home this season.