Choosing the Right Door for Your Coastal-Style Beachhouse Home
June 12th, 2017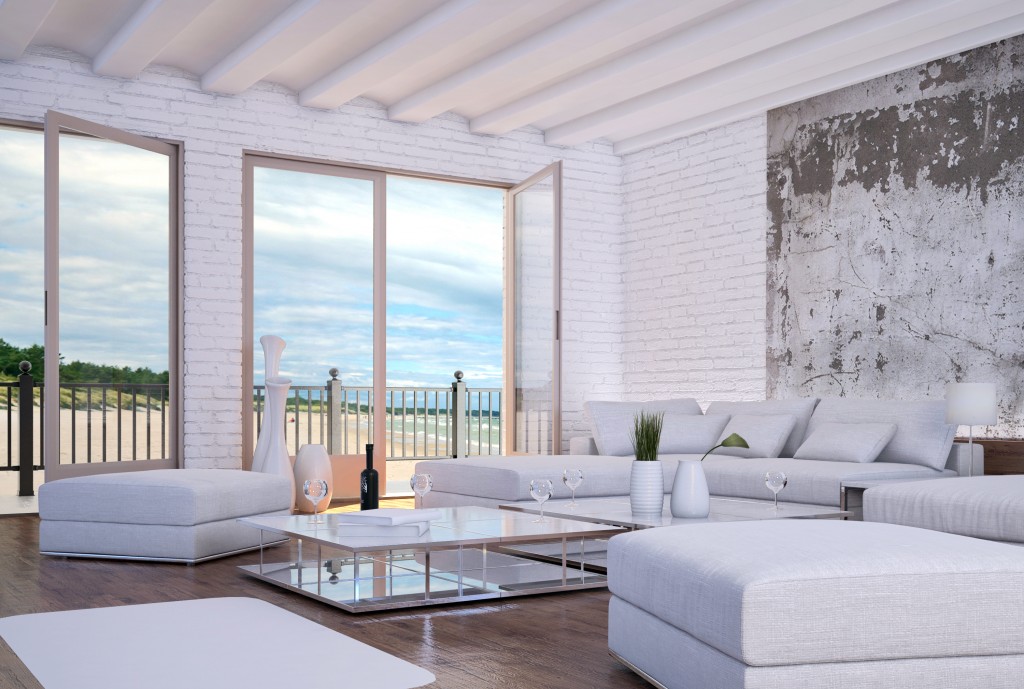 Regardless of where you live, there are always a number of different factors to take into account when choosing your home's decor. From the interior details, to the exterior finishes, one such (very important) aspect are the doors of your home You may not think that the front door is something to be particularly worried about, and it might not be depending on your location. However, if you're looking to move to a coastal area, it's best to choose the right door that matches with the aesthetic feel and needs of your home. It's important to think about certain aspects that come with living in a coastal area that can affect the doors installed in your home.

Choose the right style
When you choose a door for your coastal home, it's always best to choose one that suits the style and melds well into the coastal surrounds. When you think of beach homes, it's normal to think of homes that are predominately made of wood, with light and airy colours such as white and blue. Allowing as much natural light into a coastal home is always going to work a treat, so consider this when choosing the style of door for your entrance.
There are many doors on the market that are both safe and durable, however still have many different glass panels installed to allow as much light in as possible. Alternatively, if you don't wish to have glass panels in your front door, choosing a sturdy design that matches your home and decor will also work well.
Another option is to choose a different style of door, such as Dutch or French doors. These types of doors let in a lot of light, as well as have a style of their own which is perfect for a coastal home. Not only do you let in a lot of light, the natural ocean breeze and sunlight can also make their way in easily.
Choose the right materials
As much as the stereotypical beach house portrays wooden finishes, sometimes wood isn't the best option. Because the coastal region can be damp and wet, wood is more susceptible to rot and damage over other types of materials in environments where moisture is constantly present in the air. If you do choose to stick with wood as your material of choice, you may find that this type of door will require a lot of extra maintenance, as opposed to a steel door.
Steel is another choice that people opt for, but it's important to choose the right kind of steel door. Steel can be susceptible to rust and vulnerable to corrosive ocean air, so steel doesn't always come to mind when people are thinking about the door for their beach home. However, there are products on the market that will be suitable. SecureView's 316 Marine Grade Stainless Steel is the perfect choice for coastal areas. We continue to test our products against Australia's harshest conditions, and even have a 10,000 Hour Salt Spray Test made for coastal areas.
Choose the right colours
You don't have to be plain and boring when choosing a door. After all, a door is literally the entrance to your home, and is the first impression made on both you and your home's visitors. You can make the door as creative, as flamboyant or as sleek as you wish. While there are no right or wrong colours to choose, there are some colours that always stand out and make an impression with coastal homes. Colours such as bright, sunflower yellows or aqua blues always go down a treat. These colours always remind us of the sea and the beach, and will work well with your coastal location.
You can also choose a colour based on your interiors. If the inside of your home is styled in a particular way that utilises a number of key colours, using a colour to match on your door will work well to coordinate the colour schemes throughout the home.
On the other hand, you may want to choose a colour that is completely opposite to any of your interiors. Not only does this take your visitors by surprise, but it can make a real statement at your front door to anyone who sees it.
Durable coastal doors for stand-out homes
Your front door, regardless of your location, doesn't have to be boring. But, if you have the opportunity to showcase some of that coastal living that many others would be jealous of, your front door can help you to do just that. By choosing the right style, colours and materials for your front door, not only will you be able to make a statement, but you can save yourself some money in the long run by reducing maintenance costs on the wrong material of door for your home. Whether you want to make a statement, be bold or just simply have your decor matching the overall theme of your home, the front door shouldn't be forgotten about when deciding on design features for the house. The front door is a great way to utilise your creativity and make the most of the entrance to your home. Take a look at CommandeX's range of screen doors, that will allow you to enjoy your beautiful surrounds and also keep your home secure and free from pests.