How to Keep Your Home Safe and Warm in Winter
June 14th, 2016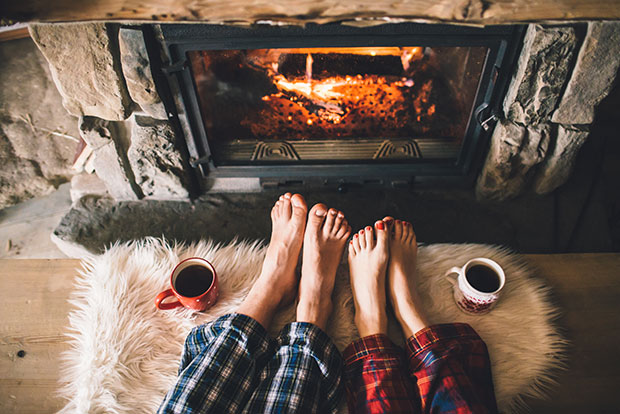 Preparing your home for winter is important for all homeowners. Adding insulation and tuning up your heating system, for example, can keep your home safe and warm in the cold winter months.
Since winter storms and cold temperatures can pose a serious hazard to your health and safety, you should plan ahead of time. Staying safe and warm can be challenging when the temperature drops, but if your home is well-prepared in advance it shouldn't be a problem.
To help you, here are some tips to prepare your home for winter and keep it safe.
Preparing your home
As we all start reaching for the flannel pyjamas and electric blankets there are certain measures to take to ensure that your home is properly heated. Here are some ways you can prepare your home for another cold season:
Winterise your home
Add extra insulation in your roof.
Add weatherstripping around doors and caulk windows to help guard against heat loss and drafts.
Clean your gutters and downspouts. Make sure your downspouts direct water away from your home's foundation.
Repair steps and handrails so they're safe and non-slippery.
Fix roof leaks and other water leaks in and around your home.
Wrap water pipes in heat tape and insulate them if they're exposed in unheated areas like garages.
Get rid of leaves and other litter around your home if you live in an area prone to bushfire.
Trim your trees and remove any dead branches so they don't damage your home in case of fire.
Check your heating systems
Have a professional service your heating system to ensure it's clean, in good working order, and ventilated to the outdoors.
Have your heaters checked by a professional to ensure they're clean, safe and working properly.
Inspect and clean your fireplace.
Install smoke alarms and test the batteries every month.
Install carbon monoxide alarms and check the batteries in autumn and spring.
Have a safe alternative heating source and fuels available.
Keeping your home safe
Whether you're going on holiday, visiting family and friends, or just staying inside for the winter, you want to make sure your home is kept safe. You don't want your house to burn down or a burglar to enter and steal your valuables. So here are some tips:
When you're heading out
Don't post online when you're going on your vacation and how long for.
Secure your home with security screens.
Lock all your windows and doors before leaving the house.
Turn off and unplug all your electrical appliances.
Hide your valuables in a safe place throughout the house.
Install light timers to make it look like someone's at home when you're away.
Shut off your water supply to prevent water damage.
Tell your neighbours when you're going on holiday so they can keep an eye on your house.
When you're staying home
Turn off electrical appliances that are not in use.
Use only one appliance per power point to prevent electrical overload.
Use electrical fuses of recommended rating and consider installing an electrical safety switch.
Don't leave portable heaters in areas where people or your pets might knock them over.
Keep bedding, curtains, and tablecloths away from portable heaters.
Place wet clothes at least 1m away from your heaters or fireplace, and don't place clothes or towels on heaters.
Always clean the lint filter of your clothes dryer after you use it, as built-up lint can catch fire.
Don't use your stove or oven to heat up a room.
Maintain your pellet or wood-burning stoves according to the manufacturer's instructions.
Don't leave cooking or other open flame like candles or oil burners unattended.
Store firelighters and matches in a safe place where young children can't reach them.
Place a screen in front of your fireplace when you're using it.
Don't use unflued gas heaters in the bathroom, bedroom, or other small room that doesn't have permanent ventilation, as harmful toxic gases can build up inside.
Don't use portable outdoor gas heaters inside your home, and never place them near overhead coverings like awnings or other flammable materials.
Make sure your electric blanket is in good condition and was never recalled by checking out the Recalls Australia website. When storing your blanket, always roll it up to prevent damaging the wires inside.
Don't smoke inside the house and take extra care if you consume alcohol while smoking.
Store chemicals and fuels properly in your garage or shed, and refuel mowers, edgers/trimmers, etc. when they're cold and out in the open.
Check your BBQ is in safe working order before you light it and is used by a responsible adult.
Finally, double-check everything to ensure that your home is safe and to give you peace of mind.
If you follow these tips, you and your home will be ready for winter when it comes and you're more likely to stay safe and warm.